2003 SHENANGO VALLEY MODIFIED SOFTBALL LEAGUE PLAYOFFS
The 2003 Shenango Valley Modified Softball League playoffs began Tuesday, July 30 with the start of quarterfinal action.
Pioneer Home Equity swept third-seeded Tony's Pizza and Pub in the finals, giving PHE its third straight league crown. It was the best overall finish for Tony's in the team's brief two-year history.
Because of inclement weather, a number of regular-season games were not made up. Playoff seeding was determined by overall record as of July 28, 2003.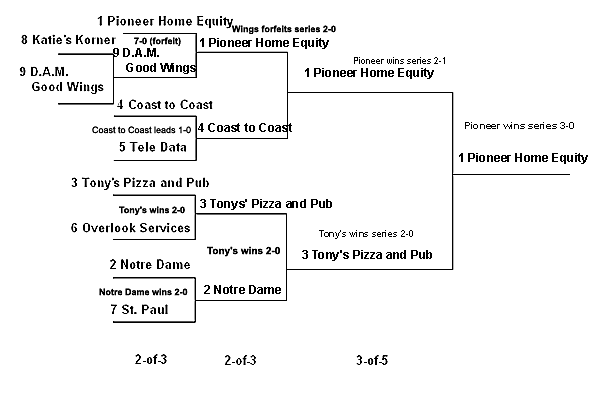 PLAYOFF CAPSULES
No. 9 D.A.M. Good Wings (5-10) vs. No. 8 Katie's Korner (6-12) -- Two Grove City teams square off in first-round game Wednesday night in Harrisville ... Harrisville is Wings' home field but game will be played there due to proximity for both squads ... Katie's Korner came on in second half, winning four of their final six games ... That run included a doubleheader sweep of Wings July 17 at COG ... Katie's Korner won season series 2-0, earning the tie-breaker over Wings ... Teams are familiar with each other, having scrimmaged occasionally each of the past two seasons ... Wings is in "pigtail" game for second straight year ... Last year, D.A.M. Good Wings lost to the former Tele Data 11-10 in a divisional playoff ... Katie's Korner, then known as BiLo, dropped a pair of hard-fought decisions to Slovenian Home in 2002 playoffs ... Wings P-DH Steve Sansom played with Katie's Korner in 2001 and 2002 ... Winner of single-game playoff faces top-seeded Pioneer Home Equity Thursday night at 6:30 p.m. (Wednesday, July 30, 6:45)
No. 1 Pioneer Home Equity (11-4) -- Two-time defending champions await either Wings or Katie's Korner in quarterfinal ... Pioneer has won 14 of their last 15 playoff games in the league ... Since 2001, Pioneer is 48-7 in the regular season and 62-8 overall ... Pioneer did not play D.A.M. Good Wings this year but took two games from Katie's Korner ... Pioneer Home Equity pulled into first place late in season to earn top seed ... Winner of series will play either Coast to Coast or Tele Data in semifinals. (Game One: Thursday, July 31, 6:30 at COG; Game Two: Friday, August 1, 6:30 at COG; Game Three (if necessary), Sunday, August 3, 4:00 at COG)
No. 4 Coast to Coast (8-6) vs. No. 5 Tele Data (8-10) -- One of two playoff rematches from 2002 season ... Coast to Coast swept the former Digital Age 2-0 in divisional playoff last year ... Coast to Coast, the defending league runner-up, has been decimated by injuries this season ... Team started 5-1 before dropping five of seven, including a 4-2 loss to Tele Data June 29 ... Coast to Coast won first meeting between the teams 15-0 June 8 as lefty Chuck Joseph fired a shutout ... Coast closed season with rain-shortened 8-4 win over D.A.M. Good Wings Sunday night ... Tele Data started year 0-7 but rebounded to win eight of 10 games ... Tele Data improved by 6 1/2 games over 2002 season ... Winner plays either Pioneer Home Equity or 8-9 winner in semifinals. (Game One: Wednesday, July 30, 6:30 at COG; Game Two: Sunday, August 3, 6:00 at COG; Game Three (if necessary), Monday, August 4, 6:30 at COG)
No. 3 Tony's Pizza and Pub (11-6) vs. No. 6 Overlook Services (7-10) -- Overlook Services begins its maiden voyage in the playoffs after a solid first season of existence ... Team started off 2-0 before hitting the skids somewhat at midseason ... Overlook closed regular season with doubleheader sweep of Katie's Korner ... Overlook also took both meetings with archrival Tele Data, the two teams representing the remnants of Digital Age ... Tony's, however, swept both meetings with Overlook Services this season, including a 15-2 triumph June 16 ... Tony's Pizza and Pub finished a half-game out of second place and one game behind regular-season kingpin Pioneer Home Equity ... Tony's led the league for most of the season before being overtaken ... Last year -- as Slovenian Home -- Tony's swept BiLo before falling to Pioneer in the division finals ... Winner plays either Notre Dame or St. Paul in semifinals. (Game One: Tuesday, July 29, 6:30 at COG; Game Two: Thursday, July 31, 6:30 at St. Paul; Game Three (if necessary): Sunday, August 3, 6:00 at St. Paul)
No. 2 Notre Dame (12-6) vs. No. 7 St. Paul (8-12) -- For the second straight year, St. Paul and Notre Dame meet in the first round of competition ... Teams split two meetings this year with Notre Dame prevailing in the season finale ... Notre Dame eliminated St. Paul from the divisional playoffs last season ... Notre Dame participated in the state church tournament last weekend in Lancaster, going 1-2 ... Only series in which teams will have a true home-field advantage as both Notre Dame and St. Paul play at their respective church field ... St. Paul is only team in league to have completed full schedule of games ... Notre Dame finished a half-game behind Pioneer Home Equity for first place ... Winner meets Tony's Pizza and Pub-Overlook Services winner in semifinals. (Game One: Wednesday, July 30, 6:30 at Notre Dame; Game Two: Friday, August 1, 6:30 at St. Paul; Game Three (if necessary): Sunday, August 3, 6:00 at Notre Dame)